Last night I attended the launch of a new children's book. The author, Neil Gaiman, read the entire book to the audience and I soon realised that I needed to dust off the 'imagination' part of my brain; to piece together the authors spoken words with images in my head. A process which is much easier when reading the words directly from the page. Can you remember the last time someone read a story aloud to you? I'm guessing, like me, you were sitting down cross legged on an itchy carpet, surrounded by other tiny humans, listening to a story being read aloud by a teacher? It was never an effort to conjure up the images and follow a story as a child.
The Stories Of Our Childhood
Everyone will have a least one story or tale that they loved to hear as a child. Whether it be a classic fairy tale or something unusual or funny. If you see the book today, you will be immediately transported back to a time when our imaginations took precedence over everything else.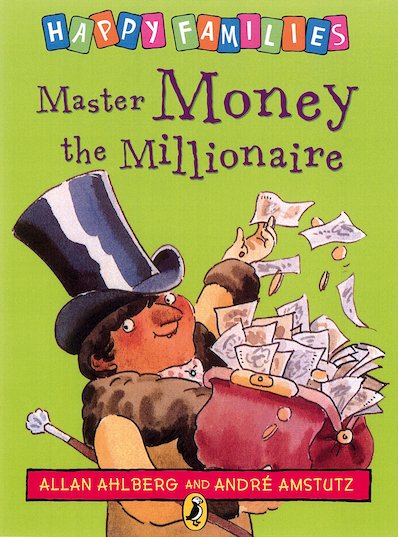 For me one particular book comes to mind; 'Master Money, The Millionaire'. The story of Master Money who was very rich (and unbelievably lucky). Each year on his birthday he just so happened to find buried treasure in his garden, or his school sandpit, or the beach, or anywhere else one just happens to stumble upon buried treasure! (Not that I've ever found any!) But then trouble strikes when Mister Creep the Crook attempts to steal Master Money's…errr…money…and so it continues.
Stories To The Past
The book was part of the 'Grandchildren's Collection' at my Nanna's house and it was the book I always had her read to us before bed when staying with her. I loved hearing her read this book. She read it with so much enthusiasm and love that she brought the tale to life each and every time. The way she pronounced 'Crook' was great too, giving a real emphasis on the word showing that he was the baddie! Gosh I miss her.
Fortunately, The Milk | Neil Gaiman 
So last night, surrounded by fans of the author, Neil Gaiman, I sat back and enjoyed my very first book launch. The only book launch I was familiar with before last night was the one in Bridget Jones Diary when she introduces the launch of Kafka's Motorbike. It's hilarious. Now I, along with most of the population of women, can't help but do the "oiii, oiiiiii!" when in contact with a microphone! Love it.
I had no idea what to expect at a launch for a highly anticipated children's book? But it turned out to be a brilliant night, full of giggles and surprises.
Mum's away.
Dad's in charge.
There's no milk.
Author Neil Gaiman has long been a best selling writer and comic, writing highly acclaimed books for both adults and children. His titles include Neverwhere, The Graveyard Book, and two of my personal favorites, which have made it to the big screen, Stardust and Coraline.
The evening, held at Central Hall Westminster, opened with special guests performing comedy and music before Neil himself, along with the illustrator Chris Riddell and actors, entered the stage to give the audience a very unique reading of his new book, Fortunately, The Milk.
Reviving The Imagination
The book is quite possibly the most interesting and imaginative story ever written about milk; Mum's Away. Dad's in charge. There's no milk. So off Dad goes to get the milk, bringing back with him a carton full of pirates, aliens, dinosaurs, wumpires (yes, I said wumpires!) and many more unusual and bizarre creatures, most of which are totally believable!
It was as if the author had known his audience might have a little trouble using their dusty old imaginations. As Neil read his book, the story was complimented by the illustrator, Chris Riddell, who re-created his awesome drawings live on stage, which was fascinating to watch. Actors also performed some of the lines from various characters throughout the book with one very special appearance made by Lenny Henry himself which was brilliant and hilarious (of course!).
The book itself is heart warming and very funny. In an age where we are so consumed with fast paced busy lifestyles, this story is a good reminder that the simplest of tasks can become the biggest of adventures. Every time we run out of milk, I will definitely smile and  think of all the adventures that I could face and the stories that I could tell.
Beyond Tired Book Club Rating: 4/5
Save Fortunately, The Milk | Neil Gaiman post for later…