If there's one thing I hate it's washing my hair. As a child I used to dread the Sunday night hair washing routine in preparation for school on Monday. It's not the actual washing part that's the problem, it's the brushing the hair afterwards part that torments me. I would literally be reduced to tears as Mum tortured me with brushes and combs trying to get my long locks to untangle themselves, which as a child seemed to last a lifetime.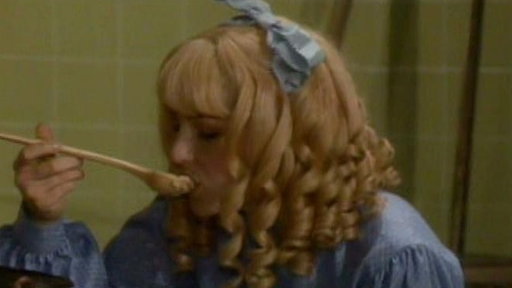 Faerie Tale Theaters adaptation of Goldilocks & The Three Bears was my favourite!
I used to dread my dance exams, not for the nerves and anxiety of performing, oh no, it was the hour we would spend styling my hair beforehand. The pins, the clips, the hairspray, the pain…urgh…knowing that I would have to endure even worse trauma when I'd have to wash out the copious amounts of hairspray that had frozen my barnet into a sculpted masterpiece, clearly contributing to that hole in the o-zone layer.
Do you remember those hair braids that you got on holiday? Where you picked out three colours of cotton and the lady would weave a cool pattern all the way down a strand of your hair? Well mine got so knotted that Mum gave up half way though trying to remove it and ended up chopping off the entire braid from about an inch from my scalp. I spent about four months after that walking around like Alfalfa from Little Rascals…not a great look on an eight year old girl.

Oh Alfalfa…
I've spent probably hundreds of pounds over the years since I started taking control of my locks, trying to find the right products, the least painful brushes and best treatments that will make washing my hair a little less stressful. I think I've finally cracked it, so I wanted to share with you my new pain free hair care regime using products from one of my favourite beauty suppliers, Liz Earle.


The 'Heavenly Trio'
Step 1: Botanical Shine Shampoo suitable for all hair types. Depending on your hair length and thickness, massage the shampoo into your hair from root to tip, then rinse. I have oily hair so was advised by my hairdresser to give my hair two shampoos. The first lifts the grease and dirt (yuck!), then the second actually cleans the hair and scalp. I usually add a little water during lathering as this gives a really foamy effect and is easier to massage all over my (very large) head.
Step 2: Botanical Shine Conditioner suitable for normal hair. I use quite a large amount of conditioner due to my crazy knotty locks, but others wont necessarily need as much. Massage into your hair, avoiding the roots and then rinse.

Step 3: Cooling the Ears. Much to their amusement, my friends have dubbed this 'The Nun Technique'. There's nothing technical about it- my ears get really hot after washing my hair, so I always let them air…
The 'Nun Tachnique'…
I hate this bit- knots galore!
Step 4: The Dreaded Brushing. The parents even brought me a hairbrush from Harrods when I was about nine in a bid to try and help my tangled locks. I don't remember it working, only them reminding me how much it cost so it can't be as painful as I was making out. Ever the drama queen apparently! But I've since discovered Tangle Teezer which magically eases through my hair, brushing out those dreaded knots.

Ahh…no more knots and I'm smiling!
Step 5: Botanical Shine Nourishing Hair Oil Now this is the best step! This lightweight oil can be applied either on wet hair before drying or used as finishing touches to styled hair. You only need a couple of drops on your hand and then simply massage through your hair. As with the conditioner, I avoid the roots. You can feel the effects instantly- your hair will be softer and more healthier looking from only a few drops of the oil. Then style as usual…I love it!

The effects are immediate!
That's me done for another week!
As with all Liz Earle Products, a little goes a long way so their products are excellent value for money and you wont be disappointed. Liz Earle's Heavenly Hair Trio is currently selling at £20.00 as a star gift for this Christmas, so its a perfect time to try out the products or treat someone special this season.
Until next time,
With Love & Lovely Locks,
Katie x