OK so don't get too excited. This isn't some page three attempt at getting noticed. But it is a feature, just about boobies. Who doesn't love a story about boobs?

Brilliant Boobie Book!
So I am fully aware that following my naughty Fifty Shades feature that I came across as a bit of a prude but my boob focus here is all in the name of a good cause- breast cancer. Dawn O'Porter, recently released her latest corker, The Booby Trap and other Bits and Boobs and it is a brilliant, heart warming and thought provoking little gem. The book is a collection of short stories, comic strips, scripts and pictures all about boobs, contributed by some of her celebrity pals. Every one of their honest offerings are brilliant and they capture an array of ideas and experience with breasts (baps, bangers, boobies, jugs…whatever you want to call them!) To give you an idea, James Dawson contributed a great short story of a girl writing a blog about her boob job, giving her readers a personal account of her fears and reasons for wanting to have larger breasts. Others gave real stories, detailing their brushes with breast cancer or tales of how their relationship with their breasts have changed over the years. Some even brought the boob to life in hilarious comic strips…
I received some funny looks when reading this on the train!
I highly recommend that you grab yourselves a copy of The Booby Trap, not only is it a giggle but £1 from the sale of each copy sold is donated to three brilliant breast cancer charities; CoppaFeel!, Breast Cancer Care and Breakthrough Breast Cancer. The book got me thinking about my boobs. Every girl's experience will be different, whether you have big boobs or small boobs, you may cherish them or loathe them. So in aid of a good cause unhook your bras, let them droop and relax whist I share with you my boob story. Boobalicious!


My First Bra
I remember shopping for my first bra with Mum. I was about 10 and I was having a tough time at school and so Mum wanted to take me out shopping for the day to cheer me up. I remember it was a rainy dark day which probably suited my mood perfectly. Dad dropped us off in town and we began our Mother & Daughter shopping spree, a tradition we have perfected and still enjoy on a regular basis. Our first stop, good old C&A (may you rest in peace). We subtly moved around the bra department in search of some suitable training bras. As soon as my eyes laid upon the pathetic pieces of material that were meant to comfortably contain and nurture my vastly blossoming boobs, I was mortified. I knew from that moment on that having a bra would become an everyday must in my life. I would from this day forward never be able to leave the house without wearing one. Great. I think the experience was a little overwhelming for both Mum and I. Who really looks forward to the day that their first born takes that first step to becoming an ample chested woman? We brought two respectable looking triangular garments and we were done. Phew.
PE & Big Boobs Don't Mix
Big boobs run in my family so I was always destined to be quite 'lucky' in the boobage department. Throughout school I realised this very early on when being a regular victim to a lot of bra pinging antics. Thanks guys. I soon learned the value of a good sports bra after nearly giving myself a black eye when an annoying PE teacher yelled at me to get a move on during one of many hellish cross country experiences (I still don't understand the point in this exercise!) I blame this particular teacher for my lack of wanting to exercise today. I developed this special 'run' where your arms cross over your boobs as if holding them in a vice to stop them knocking you out. This awful technique looks similar to a Koala Bear being chased by a lion with his arms clutched together as if still gripping to a tree for dear life. Not a great look. I hate PE… I hate running, and I'm not the biggest fan of black eyes.
What to Avoid with Big Boobs

Over the years you discover what you can achieve with big boobs and what you should avoid. For example, Bucking Broncos are a definite no no. Not unless you want to flash your bangers to an entire drunken audience in a Spanish bar. On the plus side, it could land you a free drink or two…score!
But probably my most embarrassing boobie moment occurred the summer after I finished my university degree, I joined my friend and her family on holiday in Tunisia. I remember the first morning we sat on our loungers by the pool and my friend and her sister took off their bikini tops as if it was as normal as blowing your nose. I froze on the spot. I had never sunbathed topless, but I thought, what the heck lets give my boobies a proper holiday! By day 6 and I was a topless pro. I was even ordering drinks at the bar with the other topless holiday makers without a care in the world. I was a pair of pants away from becoming a nudest loving tanning machine. But my naked confidence was about to be tested. My friend suggested taking the bat and ball (which had Finding Nemo on them…they were brilliant!) down to the beach so off we strutted. Our bronzed boobies bouncing all the way down to the shore. We were enjoying our little game, with our toes in the water's edge when a Tunisian guy came up behind me and squeezed my boobies making a terrible honking noise in the process. Fury took over as I whacked him good and hard over the head (several times I might add) with my Finding Nemo bat screaming "get off my boobs you perve!!" Again, not one of my finest moments, but I stuck up for my boobs and I'm sure they were proud of me. Note to self: if you are going to act like a stripper on a beach be prepared to defend yourself like a stripper on a beach. I can't imagine what those playboy bunnies go through on a daily basis. I'd be locked up by now for sure.

The holiday my Boobs had a Holiday!
Scary Boob Times
Boobs were a sad subject in our home when my Nanny May got breast cancer. I don't remember too much about that time, but I know it was a hard time. She is one of the strongest ladies I know. You wouldn't have known she was ill unless she told you. She was strong for not only herself but everyone who loved her. She fought it and she is grateful that she only lost one boob in the process and is now enjoying her life again. She is living proof of a positive fighter and I love her dearly.

My amazing Nanny May and brilliant Grandad John…two very special people.
Conversations about Boobs
Us girls have always talked about boobs and our conversations have developed, along with our breasts over the years:
Are you wearing a training bra yet?
Do yours hurt?
Can you see my bra through this?
What size are you now?
Do my boobs look big in this?
Does he like big or small boobs?
Has he seen your boobs yet?
Is one meant to be bigger than the other?
Can you believe he asked to motorboat my boobs?
How often do you wash your bras?
What size are yours now?
Are they meant to do this?
Do they look normal?
Have yours started to droop?
Are you breast feeding?
Does it hurt?
Are they meant to look like that?
And so on…
I'm sure the conversations will continue and grow and I can only hope that all the boobs closest to me stay safe and healthy. Our boobs will be with us through the good and the bad times. We need to cherish them and of course check them. CoppaFeel! do a brilliant Boob Check here! video- so get feeling peeps!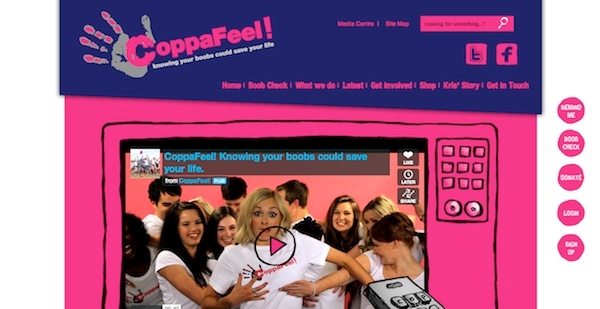 Until next time, get checking those boobies ladies!
With Love & Big Boobs,
Katie x